What is Fibre Cement made of?
Fibre Reinforced Cement products are a mixture of:
Cellulose fibre, from plantation-grown Radiata Pine trees
Portland Cement
Sand
Water
Small amounts of other chemical additives are used to help the process, or provide products with particular characteristics.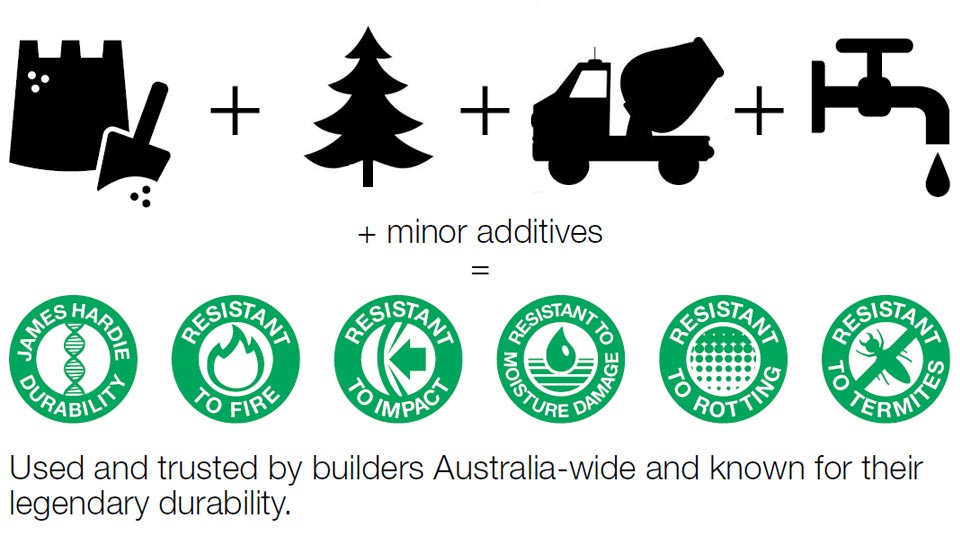 Why choose Fibre Reinforced Cement?
James Hardie® Fibre Reinforced Cement building products will not burn, are resistant to permanent water and termite damage, and, when installed as directed, are resistant to rotting and warping to the extent set out in James Hardie's published material current at the time of installation.
The products are easy to work with and low maintenance, making them the ideal choice for professional builders, designers and architects, DIY enthusiasts and homeowners.
5 Advantages of James Hardie® Fibre Cement Building Products
1. Stylish and Versatile
Easily design a house to suit varying ground levels on a build site and have greater flexibility in terms of mixing and matching a diverse range of exterior styles without changing the underlying method of construction.
2. Durable and Low Maintenance
James Hardie® fibre reinforced cement products are impact resistant and weatherproof. They don't crack, swell or warp like wood so they can hold dark colours and for longer. In fact some paints carry a 15 year warranty when used on certain James Hardie® building products.
3. Thermal Efficiency
Using lightweight, cement composite building materials can deliver significant benefits on warm days because of the materials' inherent ability to cool rapidly at night. This can give relief to sleeping areas in the night.
4. Increased Speed of Construction
Using Scyon™ and James Hardie® products makes the building process simpler and faster by reducing the need for wet trades on site. You can achieve a greater installation rate per day with most products, getting you to lock up faster and in the home sooner. A great benefit for both builders and homeowners!!
5. Space Maximisation
You can generate greater internal floor area and living space within a home because the walls can be thinner than traditional construction methods. Composite materials fix direct-to-frame reducing wasted space, unlike alternative construction methods.
How is Fibre Cement made?
The fibre cement manufacturing process produces a durable, highly workable and aesthetically pleasing product by a process that substantially reduces the curing time compared to air-cured concrete products. This means your build moves along faster, with less hold ups and complications.
You can always rely on the quality of a James Hardie® building product as all our Australian manufactured fibre cement products meet ISO 9000.1 quality assurance standards. This also ensures James Hardie operates with:
Increased quality awareness
Improved and earlier awareness of potential problems
Improved customer service
Improved management of quality
Improved product and service quality
What Fibre Cement products do James Hardie make?
James Hardie manufactures the largest, most versatile and attractive range of planks, pipes, columns and building boards (otherwise known as sheets). They are all used extensively in the construction of new homes, in renovations and restorations and in commercial buildings for (link to relevant applications pages):
External cladding
Internal lining
Internal and external flooring
Wet Area Lining – Bathrooms, laundries, etc.
Eaves, Verandas & Carports
Fire and acoustic walls
Bracing
Fencing
Decorative elements
The products are diverse, coming in numerous profiles and finishes for a range of interior and exterior building applications that suit most architectural styles.