Clothed in Classic Cladding
Cladding is a building's weatherproof skin. Use it to clothe your home in the right textures and colours to achieve the look you want.
Featured Look
Modern Homes
Boring face brick veneer homes with hip roofs are increasingly unpopular. Home owners don't want their homes to look dated in ten years' time. They want contemporary homes with bold, clean lines and diverse designs.
Explore
Ground Floor Extensions
Well planned ground floor additions bring families together in internal open plan living areas and outdoor rooms.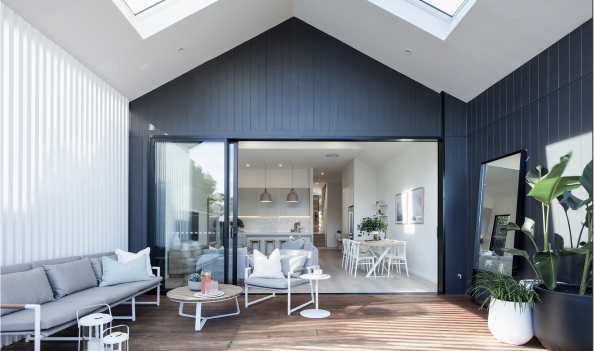 Clean Uninterrupted Lines
The maximum sheet height of Axon Cladding 133mm smooth increased from 3000mm to 3600mm.
Bathroom Peace of Mind
When waterproofing fails Hardie Villaboard won't. Future-proof with James Hardie's Villaboard.
Upper Floor Extensions
Building up to add extra bedrooms and bathrooms creates an opportunity to capture light, breeze and views.
Find a builder
Search your location for a local builder