Rethink Façade Design with RAB™
A rigid air barrier used beneath James Hardie™ external cladding to keep water and wind out, while allowing moisture vapour to escape. Introducing RAB™ board.
The modern render look made easy.
NEW EasyTex™ Panel
EasyTex™ panels are a new way to achieve a consistent, fine-textured finish, without the worry of high costs, aesthetic variability and wet trades. EasyTex™ delivers a modern-render look with all the benefits of James Hardie's external cladding range.
With a simple v-groove joint design, EasyTex™ panels are easy to install, resistant to cracking and lime staining, and come ready to paint.
Explore
Ground Floor Extensions
Well planned ground floor additions bring families together in internal open plan living areas and outdoor rooms.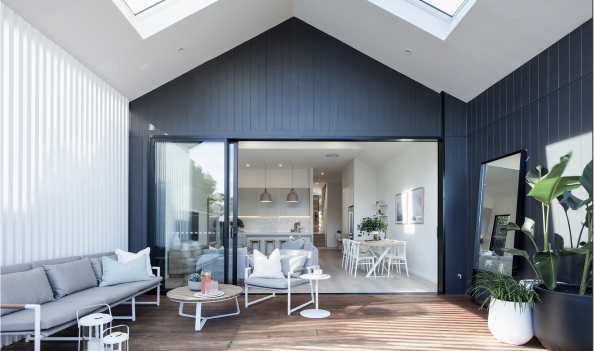 Clean Uninterrupted Lines
The maximum sheet height of Axon Cladding 133mm smooth increased from 3000mm to 3600mm.
Bathroom Peace of Mind
When waterproofing fails Hardie Villaboard won't. Future-proof with James Hardie's Villaboard.
Upper Floor Extensions
Building up to add extra bedrooms and bathrooms creates an opportunity to capture light, breeze and views.
Find a builder
Search your location for a local builder